February is American Heart Month, a time to raise awareness of heart disease—the leading cause of death in the United States, according to the American Heart Association. To raise awareness locally, FIU's Department of Biomedical Engineering established Miami Heart Month, during which cardiovascular disease experts are invited to present their research to current biomedical engineering students.  
Florida Heart Foundation, a nonprofit organization with a mission to stop heart disease through research and education, is one of the participants of the event. Following the inaugural Miami Heart Month, alumna Sana Nasim (at the time a biomedical engineering doctoral student) reached out to the foundation with a proposal to consider funding a project related to heart disease.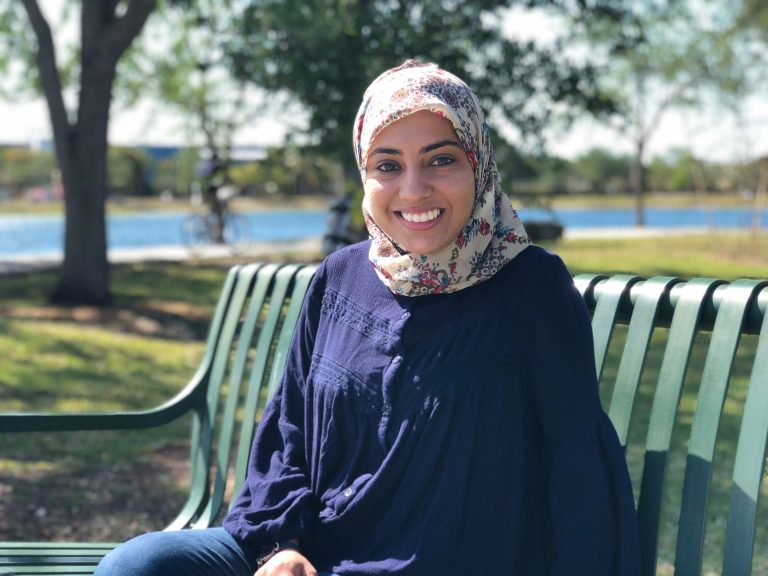 Sana Nasim
They said yes, and additionally, established the new Florida Heart Doctoral Student grant. Most recently, Daniel Chaparro, also a biomedical engineering doctoral student, was awarded the newly established grant with $60,000 of funding to use for his research, which continues much of Nasim's Ph.D. work.  
Under the mentorship of her Ph.D. advisors Lidia Kos, associate dean of the University Graduate School and a professor of biological sciences, and Joshua Hutcheson, an assistant professor in biomedical engineering, Nasim's research focused on understanding how different types of cells contribute to the development of the aortic valve. The aortic valve keeps blood flowing in the correct direction through the heart. Aortic valve disease occurs when the valve is not working properly.  
With the funding received from the Florida Heart Foundation, Nasim conducted high-impact research and learned how to effectively manage a research budget. She graduated from FIU in 2020, is currently working at Boston Children's Hospital, and has started a postdoctoral fellowship at Harvard University.  
Chaparro, who originally thought of being a medical doctor, changed gears during his senior year of high school, where he learned that engineers exist in the medical field. He also considered pursuing a combined bachelor's and master's degree in biomedical engineering, but an opportunity to conduct research in his undergraduate years revealed his true path.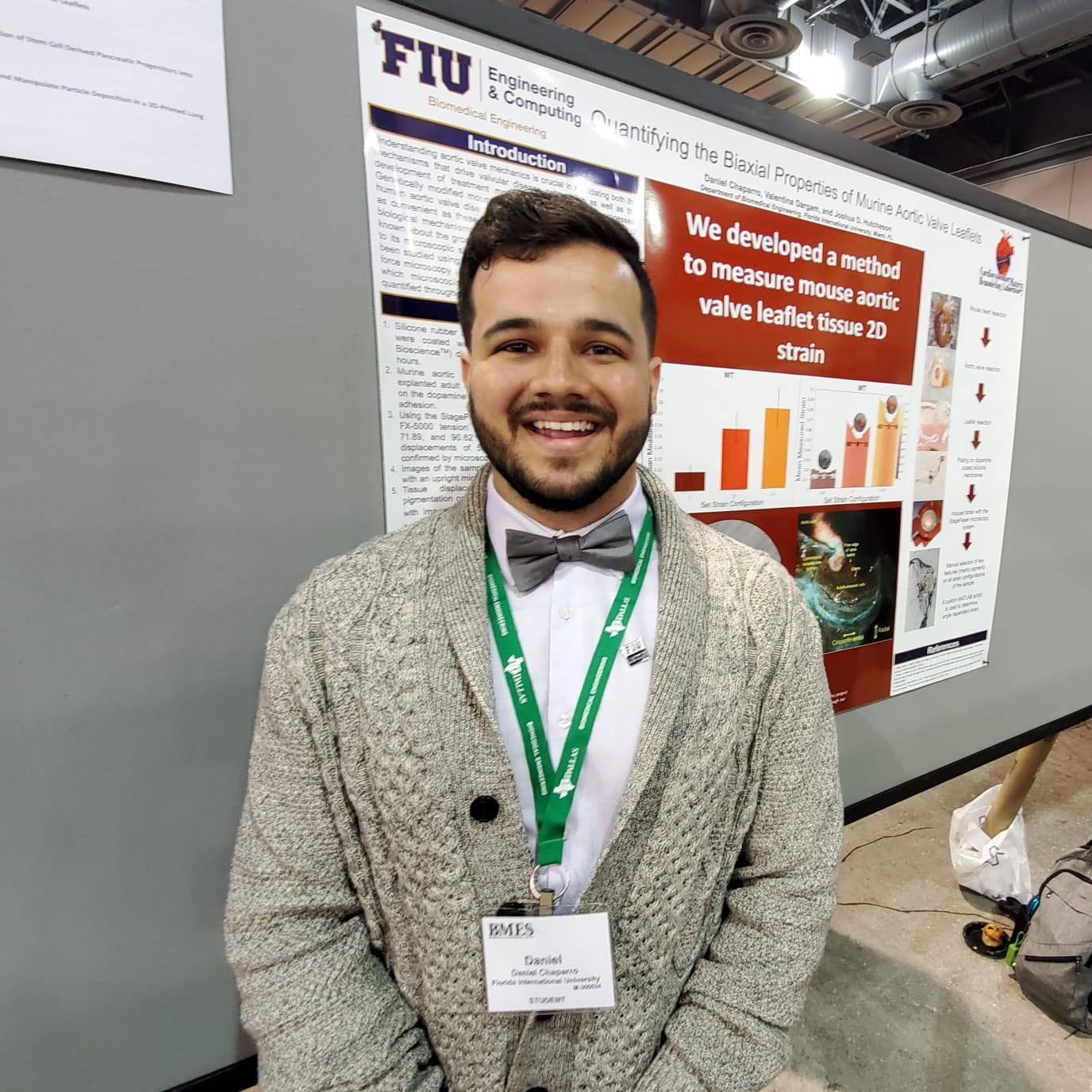 Daniel Chaparro 
"During my junior year of undergraduate studies, I took Professor Hutcheson's Biomedical Engineering Transport course, where I found myself engaged all the time," said Chaparro. "Professor Hutcheson noticed my curiosity and invited me to participate in his lab, FIU's Cardiovascular Matrix Remodeling Lab, over the summer. I was learning more through this hands-on experience, and ultimately, it was a pivotal moment for me in deciding to go for a doctoral degree in biomedical engineering."  
As a Ph.D. student, Chaparro studies neurons, cells that are more prominently studied in the nervous system. He is trying to understand why these cells exist in the aortic valve and determine the contribution of these cells to aortic valve growth, mechanical function and disease.   
A valve with neurons is something that's highly overlooked according to Chaparro and Hutcheson. "It's been years since publications have reported on this phenomenon. In the 90s, it was discovered that the heart does in fact have a 'brain,' composed of approximately 40,000 neurons," Hutcheson said.  
Chaparro and Hutcheson hope to discover how neurons might be involved with valve disease and if it's possible to regulate neurons for therapeutic benefit. Valve disease affects approximately 25 percent of people over the age of 65. If not treated right away, valve disease can ultimately lead to heart failure.  
Chaparro will use the grant to perform his studies, report his findings, develop and maintain a budget and receive regular mentorship through meetings with Hutcheson and his dissertation committee.     
"Not only does this grant help me perform very technical approaches to science, but it's also preparing me to hopefully manage my own lab in the future," Chaparro said.  
Chaparro is a published author, with two scientific publications as the primary author. He is a member of the Biomedical Engineering Society, Alpha Eta Mu Beta (AEMB) Honor Society and the Institute of Electrical and Electronics Engineers' biomedical engineering branch. He also tutors other engineering students and volunteers at multiple events hosted by the College of Engineering & Computing, including the annual Engineering Expo, where K-12 students experience a day in the life of engineers.  
"He's a natural researcher. I'm happy he chose this route," said Hutcheson about Chaparro's biomedical engineering journey.